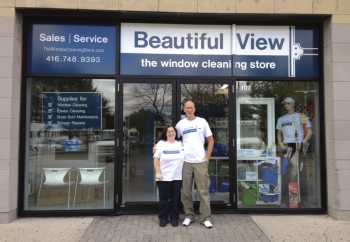 By Melanie Jonas
After a few years of living in a high-rise condo downtown you start to notice things about the building you may have never even realized. For example, cleaning the outside of a high-rise condo window. One day, I was driving into my parking lot and saw a man raised up high into the sky cleaning windows from what looked like a hanging balcony that was lifted a few storeys up into the air. I wondered how long it would take someone to clean an entire buildings set of windows and it dawned on me why my building only cleans theirs twice a year.
My excitement for this month's feature is due to my curiosity about window cleaning. I am featuring Beautiful View: The Window Cleaning Store, and when I found out this store, which has only been open for a few months, was in the Emery Village BIA I was quite thrilled to be able to ask all my questions about window cleaning to the store owner, and professional window cleaner himself, Mark Strange. Strange was a window cleaner for over seven years before he realized that his passion for teaching and his ability to clean windows for the rest of his life was not going to be entirely possible. With the help of his wife who not only supported him opening a store but also designed the entire layout herself, Mark is in business and was happy to talk. Needless to say, the windows are streak free and clean as a whistle. His teaching skills are tested with every customer who walks into his store. Strange not only has used every product, he knows exactly what would suit the customer the best and wants the customer to be prepared.
He has a test window where he shows the customer the right way to use the product and the best way to get a streak free clean in the quickest amount of time. I think I was one of the worst students, as I did not realize how technical cleaning windows are.
The store is a speciality-cleaning store, but you don't have to be a professional to use the equipment. Anyone who cleans their household windows or even their car, if you do a lot of do-it-yourself carwashes, could use Mark's products and expertise. With a wide range of window cleaning products and even some videos to show you how to use them the store is for everyone.
It is located right at 1805 Wilson Avenue, unit 107.
If you are interested in getting the best value for your money and want to learn the right way to clean a window, check out Beautiful View: The Window Cleaning Store near you!