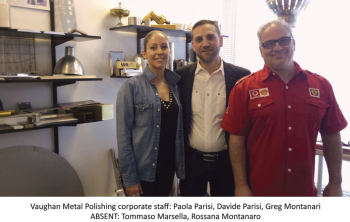 By Tim Lambrinos
It's a site that operates with an internationally-known metal polishing reputation. Located on the southwest corner of the intersection at Milvan Drive and Millwick Drive is Vaughan Metal Polishing Ltd.
The industrial business began operating in 1947 on Vaughan Rd. near St. Clair Ave. West. The company relocated to Emery Village's industrial core in the 1990's.
The current owner's father (Anthony Parisi) started with the business as a driver. He worked his way up the corporate ladder and finally became a partner.
Eventually, he was able to buy out nearly all of the other backers of the partnership group. His son, Davide, has now bought out the last remaining original partner, to finally make the business a true family-run operation.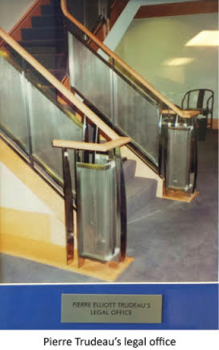 The company completes metal finishing and polishing. In doing so, they are able to treat all different types of previously coated metal finishes.
Vaughan Metal Polishing business is well known and highly respected within metal manufacturing circles. The firm provides quality products and services in their specialty of metal polishing and with buffing, brushing and deburring.
Some of their larger clients include BMW X5/X6 running boards and orders of mechanical parts that may be automated or robotic.
The company utilizes a wide range of metal finishing techniques allowing them to provide a vast range of finishes on different kinds of metal products. They can handle grinding and have touchup services. In addition, they offer polishing on painted surfaces and Suede finishes.
Their treatments can be applied to most automotive products, extrusions, bars, pipes, tubes and angles, sheets and perforated sheets, spinnings, plates, castings and other fabricated parts comprised of metal.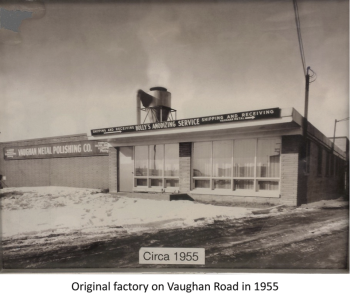 Their portfolio is worldwide. Three of their more impressive jobs include the Pearson International Airport, the MGM Grand in Las Vegas and another in a section of Pierre Elliott Trudeau's legal office.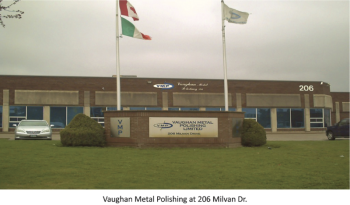 Vaughan Metal Polishing is always willing to produce samples for customers' approval on ordered finishes.
If you think you have a metal polishing job, big or small, keep Emery Village's local company in mind.
Their firm is located at 206 Milvan Drive at (416) 743-7500.