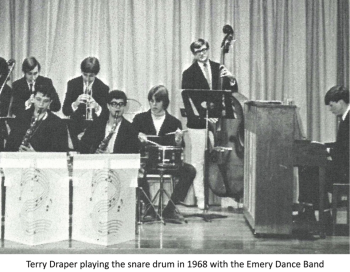 By Tim Lambrinos
An internationally recognized musician had once been a pure music-loving, drumstick toting happy-go-lucky trombone player walking up the hill each and every day to Emery Collegiate.
Terry Draper, along with his childhood pals, would one day achieve international recognition in the field of creative music. Terry's early childhood classmates included John Woloschuk of Florida Crescent, Mike Farrington of Weston Rd. and Wolfgang Both of Samba Dr. The boys would one day fuse their vast harmonious talents into a mega-band and for a brief moment in time, make the earth stand still.
In 1961, the Draper family moved into a brand new home on Verobeach Blvd. in the Woodview community. For the next three years, Draper would attend Gulfstream Public School. He was just 10 years old when he got his first bite from the music bug. He had already acquired all the top records of the time including Phil Spectre and the Beach Boys. Then a pivotal turning point materialized in his life. The Beatles.
Like many others, he watched them on Ed Sullivan that historic evening and decided then and there, this is what he was going to do. And like Ringo, he wanted to be a drummer.
In 1964, Draper enrolled at the newly opened Emery Jr. High School where he was required to take classes in metal and wood shop. He also began taking music classes with instruction from teachers, Mr. Henkel and Mr. John Moses. Mr. Henkel eventually coerced him into portraying "Dick Deadeye" in a school stage production of the HMS Pinafore. At the time, Draper found singing in front of an audience tough. So much, that he actually stopped singing for a while. In 1966, he attended Emery Collegiate Institute where he further refined his musical skills. At Emery senior high, music teacher Baird Knechtel committed to music theory as part of Draper's studies. He continued playing the trombone and played the snare drum in the school's dance band.
Residents of the Woodview community would often see him walking through the neighbourhood tapping on anything he could with his drumsticks – like telephone poles or even the shoulders of his girlfriend (Shelley Kinton). He had long blond hair and usually wore a brown buckskin jacket. At Emery, his favourite educator was English teacher, Mr. Nightingale. Draper was once required to complete a major project on the play As you like it, by William Shakespeare. He examined five songs from the play and did his best to match them to five modern similarly-themed songs. A lone cassette tape and a single sheet of paper was all that he handed in.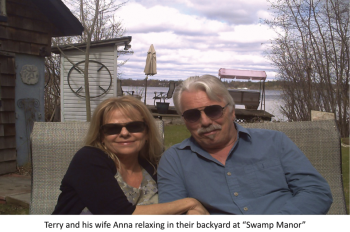 Nightingale handed him back an A+.
The first group Draper and his chums formed was J.P. and the Five Good Reasons. Draper played the drums with childhood pals John Woloschuk on the organ, Jimmy Pitkin vocals, Mike Farrington lead guitar, Wolfgang Both on bass and Johnnie Iwanenko on rhythm guitar. The band's first gig was for Iwanenko's sister Lana's wedding.
During his final year of high school in 1969, Draper moved into Yorkville. He continued making the trek to Emery so that he could finish his studies with his future band mates. Their first vinyl recording was "I'm Dreamdaying" by their renamed band, Whitemail. This first recording session took place in 1969 at Trend Records in West Hill, Scarborough. After high school, Draper became all self-taught. He bought a Beatles handbook that had fingering listed in colour-by-numbers. The first song he learned to play on the guitar was "Norwegian Wood." He bought a piano years later and taught himself to play it too.
Several musicians (Hendrik Riik, Jaimie Bridgeman and Dee Long) rotated in and out of Draper's bands. Long had previously been with, The Polycromatic Experiment. Another unforgettable band named, Mud Cow was formed while Draper and Co. lived in the old Riley farmhouse on Weston Rd.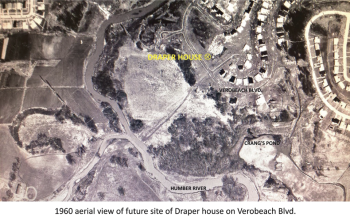 The home was on the southwest side of Finch and Weston Rd. but was marked for demolition.
Draper along with his bands performed at the Oakdale Tavern on Oakdale Road. After five or six years of toiling in many freshly created groups, Draper hit the big time with the group, Klaatu. In 1974, Rush producer Terry Brown's offer to let him Woloschuk and Long loose in his studio during off hours set off a tuneful time bomb that became the starting point of one of music history's most unique adventures. Frank Davies got himself involved and signed them to a deal with Capitol Records. Calling themselves, Klaatu (after the peace emissary in the 1951 movie The Day the Earth Stood Still), the men wrote, recorded and engineered an album compared to Pink Floyd, ELO, and The Beatles.
But when worldwide-hysteria set in, the young men found themselves in a situation they hadn't anticipated. They were publicity-shy instrumentalists who would prefer staying isolated from the rest of the world. Woloschuk's desired anonymity actually steered the group to an unforeseen conclusion. Since the disbanding of Klaatu in 1982, Draper has pursued a solo career and released a number of his own CD's. From his 1997 album called "Light Years Later" to his most recent in 2016 called "Searching." Draper's music can be found at:
www.terrydraper.com
One memorable highlight of Draper's music career is when he and Woloschuk wrote a song that was used by Karen Carpenter entitled "Calling Occupants." Karen sang the song alongside her brother in their group, The Carpenters. Draper recently reflected on his life and his music experiences.
"That being in a band very much becomes like a marriage … conflict and happiness. Camaraderie is key and working together as a team. Only then can magic be created."
Terry Draper currently resides in Oak Ridges, Ontario along with his wife Anna. He spends his day somewhat semi-retired and still focuses on nurturing his artistic talents in a recording studio inside his home. The young boy that aspired to become a talented musician continues to create his own brand of individuality in a form worthy of being recognized as a great musical talent who came from Emery.