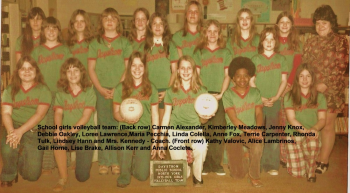 By Tim Lambrinos
Back in 1962, one lingering fragment of Richard Storer's apple orchard, business and farmhouse would finally be bulldozed to make room for new homes. Modern, contemporary-looking single houses were built over the last remaining slice of the Rivalda Farms' apple orchard. The houses created on Storer Drive, Goldpine Crescent and an extension of Windhilll Crescent, completed the Daystrom area housing subdivision.
Daystrom Drive Public School had opened two years prior, along with most of the semi-detached homes already built in and around the school and park.
One of the new single homes on Storer Drive was purchased by Ron Meadows. He and his wife moved into the new home with the hopes and dreams of creating a healthy and successful setting for their new born daughter, Kimberley.
Ron was working as a police officer at nearby 22 Division in Rexdale. As a result of his extraordinary leadership skills and prevailing work ethic, Ron would eventually become the division's unit commander. Kimberley's mother was raised with dedication and a commitment to good manners, etiquettes and propriety.
While growing up on Storer Drive, young Kimberley Meadows had an assortment of childhood friends including Lindsey Hann, Christine Sorenson, Loree Lawrence and Alice Lambrinos. The first school Kimberley would attend would be Daystrom Drive Public School. It had a large gymnasium, enormous playground and an in-house dentist's office for pupils.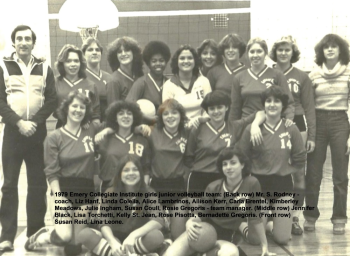 Kimberley's athleticism was evident at a young age. She was a member of the school's volleyball team with Grade 6 teacher, Mrs. Kennedy, serving as coach of the team.
Kimberley began attending Emery Junior High where she took music classes. She excelled academically in her studies and advanced with honours to the senior high where she played in a group guitar ensemble.
Her involvement in athletics expanded as she competed on the school's swim team, track and field team and the girls' volleyball team.
After graduating Emery C.I. with honours in 1981, Kimberley's plans to attend a Physical Education program at the University of Toronto changed. She immediately enrolled at Police College and attempted to follow a career path in her father's footsteps. When she graduated the academy in 1983, she promptly joined the Toronto Police Force where her initial detail would be at nearby 12 Division in the City of York (Weston). For several years, she walked the community beat and occasionally drove a scout car. In 1986, she was promoted to detective and worked as an undercover officer.
In one famed incident, she would be called upon to prove her command. During a daunting but bungled bank heist on Davenport Road, Kimberley Meadows was presented with a situation that offered no other option but to take down a potentially armed bandit. After the man leapt over the counter, Meadows wasted no time in responding to the situation she was presented with.
She tackled the man and captured him –­ finally reading him his rights.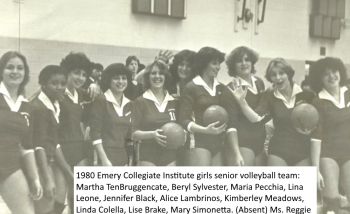 Meadows married a career police officer and together the Greenwoods began to start a family.
Continuing to move up the ladder at work, Kimberley Greenwood became the child abuse co-ordinator for the Toronto Police and was stationed out of the headquarters on College Street. This is where she could work conscientiously for young victims of "horrific crimes," while assisting officers to solidify and secure convictions. At the time, she believed her mission was to find the bad guys and help victims carry on successful lives.
She became an inspector and staff superintendent at 51 Division before being offered the top job in Barrie, Ontario. In 2013, Greenwood was appointed the Chief of Police in Barrie, becoming the first female to head up that force.
Also in that year, she completed part-time academic studies and obtained her B.A. in Justice and Public Safety at the University of Guelph-Humber. The experience was a contributing factor to expanding her insights into practical working models toward the prevention of crime.
"The program provided me with a different lens on how I saw public safety and policing," she said.
In 2014, her unmatched senior level leadership experience did not go unnoticed by the City of Toronto. She was on the short list of candidates to become Toronto's top cop. The job was ultimately offered to Mark Saunders.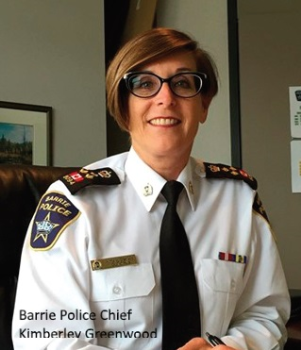 Currently, Greenwood continues to hold down the title of Chief of Police of Barrie and as the President of the Ontario Association of Chiefs of Police (OACP).
The once former athlete and scholar of Emery, continues to benefit society and oversee a fast-growing element of law enforcement to maintain peace.