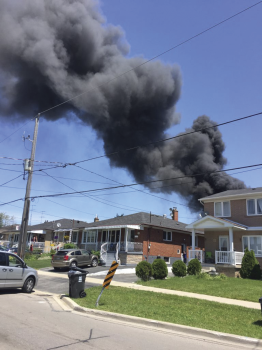 On June 14 a fire broke out in an abandoned auto shop near Rivalda and Sheppard Ave.
The fire had to be treated with care due to possible hazardous materials contained in the building. Toronto Fire Services got several 911 calls about a fire at a building around 1 p.m. Wednesday.
When firefighters arrived, they were met with heavy smoke and flames.
Deputy Fire Chief Jim Jessop said there were hazardous materials, compressed gas cylinders and large quantities of other very toxic chemicals in the building. Nearby residents heard many large explosions going off.
Do to residential homes being so close to many of the industrial areas in Emery Village, residents need to be vigilant in keeping an eye out for these type of events and potential evacuation requests.
No one was injured. Firefighters were waiting for the all-clear from the hazmat team before they could investigate the cause.
This is still under investigation.