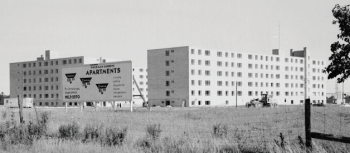 By Tim Lambrinos
Sixty years ago, the first modern buildings were established southwest of the intersection at Finch and Weston Road. It was the beginning of a new housing subdivision where all aspects of the development had been carefully planned by appropriate officials.
In 1959, two yellow brick apartment buildings were built at 2431 and 2433 Finch Avenue West – and named Finch Main Gardens. The dwellings would accommodate families of construction workers that were building homes in a newly designed subdivision. The first homes built were semi-detached houses on new streets named Windhill Crescent and Ironwood Road.
There had been standard processes to ensure that sufficient numbers of teachers and other staff were in place for the opening day of the area's newly built school. The elementary school was named Daystrom Drive Public School and was built on the corn fields of Richard Storer's farm.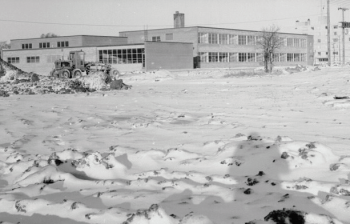 The school itself was designed in a "modernist" style and had two floors and a gymnasium. Construction photographs reveal a lower boiler room where the main building would have no basement at all. A long row of wooden planks extended from Jayzel Drive and served as the building's first sidewalk to the school.
At the far south end of the building, there was an in-house dentist's office where mandatory check-ups were provided. It was also a time in the early 1960s when young children routinely walked to the school on their own or they were accompanied by their neighbour's children.
The school's official opening was in February, 1960. In its first year of operation, there were 394 pupils in grades ranging from kindergarten to Grade 8. Daystrom's first principal was Arthur Ward. He was assisted by the first vice-principal of the school, George Meeks. On March 20, 1962, the community's first home and school association received its charter from the Ontario Federation. Mrs. G. Roberts was listed as the first president and Gwen Crawford as the first vice-president. The group would run a skate exchange for users at an outdoor rink in Lanyard park. Ratepayers regularly flooded the rink during winter months.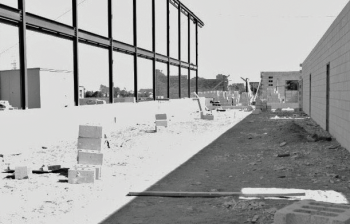 The association also held afternoon matinees in the school's gymnasium called "Saturday at the Movies." They would rent films from a commercial enterprise in downtown Toronto and make certain that volunteers included a projectionist to run the machine. Snacks for children included mountains of bagged popcorn.
The school now has 30 classrooms and two gymnasiums and accommodates approximately 500 students. Grades range from junior kindergarten through Grade 5. A water-based play area exists at the rear of the school in the southwest corner of the yard in Lanyard Park. The pad has been a welcomed feature to the community since 2000.
In 2019, the principal of Daystrom is Carmen Wynter-Ellis and the vice-principal is Charles Offor.
For the last 60 years, families with a wide range of nationalities have resided in the community and their children have enrolled at Daystrom Public School. The community has always had an array of cultural distinction and has always been able to maintain excellent depth in this rapidly changing dynamic of our society. One noticeable transformation is how classes are actually conducted at the school compared to the way they were 60 years ago.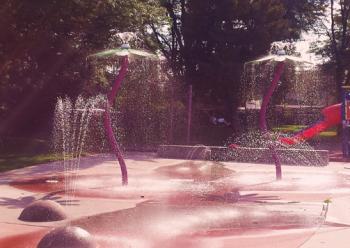 Many of the area's longtime adult residents can recall a time when standard drills were routinely conducted during a school day. Fire drills were carried out frequently at many different times throughout the year. Children were made to stand outside in the elements for short periods.
Today, it's the "Lock-Down" drill that is much more important, more intense and more frequently rehearsed by the children in schools.
Also, Phys Ed classes at school seem to be more closely checked with some balls being banned from schoolyards for potentially being too dangerous. At times, some have been cautioned that only nerf balls or sponge balls can be brought to school by their children. Seemingly, in anticipation that someone could potentially get a concussion from something like an errantly launched soccer or hard baseball. Such is the way that our society has evolved today from what, one might say, were the more innocent years of the past. Times have changed, and schools have had to adapt to the new trends of modern society.
What hasn't changed from yesterday and up until today, is that we are blessed to have some of the finest and most caring school administration staff at Daystrom P.S., that continue to care for the children of Emery, as they would their own.

To this, we offer them a big round of gratitude.