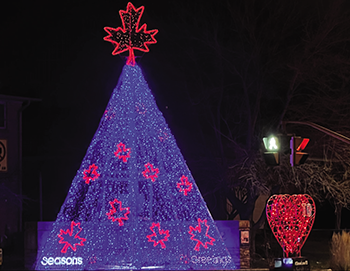 Are you looking to boost your holiday spirit?
Then we have a contest that will fill your heart with joy and community spirit.
Check out the corner of Sheppard Avenue and Weston Road between now and January 15. Emery residents can take a cool picture of themselves or with friends and email it to: info@emeryvillagebia.ca
The Emery Village BIA will hold draws for five lucky winners of $20 gift cards to Tim Horton's or Starbucks. Everyone that takes a photo by the Christmas tree or Love TO heart at night and sends in their picture to: will be entered for the draw to win.
The Holiday Season is a time for families and friends to get together and reflect on the many blessings that we share. The Emery Village BIA extends a warm round of thanks to all the Emery Village BIA member businesses that help to make these beautiful additions to the community, such as the Emery Christmas Tree and many other holiday lighting installations around Emery.
And as a thank you to the members, when you have an opportunity, the BIA asks that you try and support local Emery businesses.
The Emery Village BIA's Board of Management and staff wish everyone continuing health and prosperity, a very Merry Christmas, Season's Greetings, and Happy Holidays throughout the entire festive season.
New Year's Eve Toronto