Emery Village's cellist supreme
By Tim Lambrinos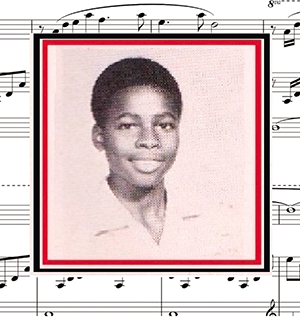 Just a few decades ago, teaching instrumental music at schools in North York's junior high school system was a central part of the educational curriculum. Musical instruction and theory included studying classical pieces written by Britten, Somers, Bach, Beethoven and Mozart. And the mandatory playing of musical instruments in schools around the world served as a catalyst that inspired the 1960's and 70's rock movement.
Musicians wrote, sang and played their own instruments all within their own songs. This period in music history produced many legendary instrumentalists and many timeless works of art. Led Zeppelin's Stairway to Heaven, is an example of one of these. There was also The Birds, who were influenced by the classical compositions of Bach and Freddie Mercury of Queen who was influenced from his own teachings of opera music. Currently, the mainstream music industry has evolved significantly into popular rapping and electronic synthesized background beats that have all become the "in" thing for millennials.
One of Canada's most talented classically-trained musicians is Emery's own, Ronald Chambers.
The first school he attended was Gracedale Boulevard Public School in Humber Summit.
Chambers' music career began in 1967 when he started tinkling on a piano found in the back of one of the rooms of the public school. Second grade teacher Susan Pollock heard him playing and informed his mother, Veronica Chambers, that she should consider enrolling her son in piano lessons. In 1969, Chambers and his classmates were taught to play the recorder with instruction from teacher Nancy Hull. As a result of a second recommendation to his parents, Ronald Sr. and Veronica decided to take young Ronald out to sample a piano in front of them at a store in the Yorkdale Mall. After hearing their son play, the Chambers' purchased the piano that very day.
Ronald regularly played the instrument once purchased, and almost immediately began to reveal his talent. Also around this time, he enrolled in private piano lessons given by neighbour Lois Culp of nearby Navenby Crescent. Two years later, after two Royal Conservatory piano exams, his instructor became the esteemed Victor McCory at the Royal Conservatory of Music.
After graduating Gracedale in 1971, Chambers began attending G.B. Warren Junior High School on Pearldale Avenue with strings' music classes taught by Mrs. Hendry followed by Ms. Lois Levine. At the school, Chambers would be given the opportunity to learn to play a new instrument named the cello.
In 1973, Chambers' interests began to expand into pop music when his father purchased him a tape recorder for Christmas.
He was now able to record and playback the latest music of the day all while playing along on his piano. One of Chambers' favourite artists at the time was Elton John. Chambers began to write pieces for string instruments and filled up his spare time listening to the Beatles and the Electric Light Orchestra on his record player or on the radio.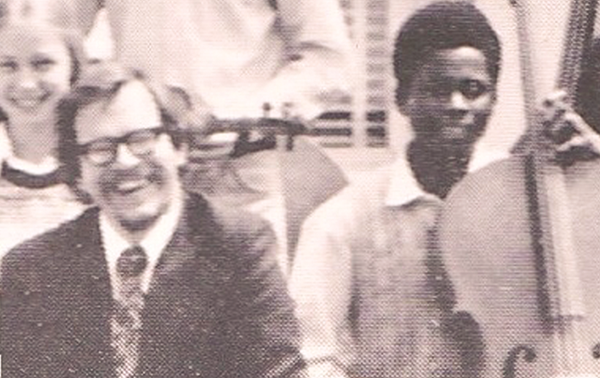 Beginning in 1974, Chambers began taking music classes at Emery Collegiate taught by Baird Knechtel.
Knechtel played the viola himself and was the head of the music department at Emery since 1967. Knechtel had an established reputation for motivating students to appreciate the love of music, not just by playing their own instruments, but by studying musical theory. Chambers also became particularly inspired by other music students of the school including Don Dawson, Susan Schultz, Lou Pomanti, Carol McCartney, Mike Lyons and Carol Cumby.
Knechtel encouraged his students to linger in the music room after school and work on individual projects. One memorable piece that Chambers recalls playing in the school orchestra was accompanied by classmate Pauline Gilbert.
She would play the flute in a catchy number known as the "Swinging Shepherd Blues."
Chambers was approached by Knechtel who suggested he start taking professional cello lessons. An audition was scheduled for Chambers where he was required to play five different pieces from distinct periods of music history.
Chambers became quite intimidated by the challenge. He couldn't decide where to begin. Knechtel could see his hesitation and found a way to inspire him. He pulled his own cello off the rack and began playing it alongside Chambers. Knechtel's technique of inclusion was seemingly uncharacteristic of him but it had an effect on Chambers' life that would be everlasting. Chambers was now primed and ready for his first audition. Knechtel took the day off from his other classes to accompany Chambers to the Conservatory. They were also accompanied by Susan Schultz who was required to play the piano at Chambers' audition. After the performance, Chambers received a letter informing him he would receive a bursary allowing him to pursue cello studies at the Conservatory. Knechtel once again recommended he take private lessons from Alan Stellings. Chambers travelled downtown by TTC for a first encounter held over a Harvey's hamburger.
Stellings displayed an overall calm and friendly nature. It took one lesson for Chambers to realize that he wanted to pursue a classically-trained music career. The following year, Chambers took two Conservatory cello examinations, and to his amazement, was awarded Provincial Silver Medals following both exams.
One of his favourite memories at Emery was when he played keyboards, accompanied by the school's symphony orchestra, in a season-ending medley of songs. In his final year at Emery in 1978, Chambers was once again called upon to play the piano in a school musical called, "The Me Nobody Knows."
The show featured lead singer Carol McCartney and class valedictorian, Dan Sullivan.
After departing Emery, Chambers continued private cello studies while he attended the Congress of Strings for a summer of four concerts over an eight week period at the University of Washington in Seattle, Washington.
This was followed by a year of study at Michigan's Interlochen Arts Academy, where he played in the Symphony Orchestra and the Ruggieri String Quartet. He then enrolled at the prestigious New England Conservatory of Music in Boston, Massachusetts.
In 1983, Chambers finally returned back to Canada to attend the University of Toronto and compete in the Kiwanis Music Festival later that year. At the competition, he was winner of the String Prize and the renowned Overall Prize. In 1984, he would compete once again, winning first place in the Ontario Provincial Finals in cello.
In 1985, Chambers was recognized as a winner at the prestigious Harry Jerome Awards for his dedication to music and the arts. With this honour, he joined a class of award winning Canadians in their own areas of accomplishment and expertise. In 1986, he would win first prize in cello once again at the national finals of the Canadian Music Competitions held in Winnipeg, Manitoba.
One astounding encounter would occur later that year while Chambers was playing a Concerto with the Georgian Bay Symphony. Chambers would come face to face with someone he hadn't yet met but indirectly had great significance in developing his music career. He was approached by an older gentleman who had also been playing in the orchestra. During a rehearsal break, the older musician came up to him said, "Hi, I'm your teacher's father."
The stranger from the viola section was no other than Alban Knechtel, Baird's father.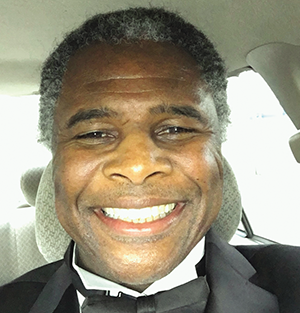 Chambers would go on to obtain his Masters Degree at Northwestern University with added studies at The Georgia Academy of Music in Atlanta, Georgia. This was followed by him studying at the Eastman School of Music in Rochester, New York. He then became a professional cellist in Chicago's Civic Orchestra.
These days, Chambers maintains a private cello teaching studio in Winnetka, Illinois. He also directs the Ruggieri Cello Choir where he has written multiple arrangements. He is also a substitute cellist for the Chicago Civic Orchestra and helps develop regional musical interest for youth by initiating measures for the immediate community to encourage the growth of instrumental music in various circles throughout Illinois. His key advice to young people that want to reach musical excellence is for them to start young, be inspired by your peers, look up to musicians in the community and practice, practice, practice.
A recommendation for a street naming in Emery for Ronald Chambers was submitted by the BIA in 2012 to the City of Toronto. However at that time, it resulted in a mixed report by city staff since there already exists a Chambers Avenue in Toronto (no relation). Although no new streets in Emery are scheduled for tribute for him at the current time, it remains clear that few graduates from Emery, or across the continent, will ever be able to match the all-encompassing musical talent held by Ronald Chambers.
When the BIA's vision of an Emery Village Music and Arts Centre or separate music school materialize, there is no question that consideration for naming such a centre should include the celebrated, famed cellist known as Ronald Chambers.