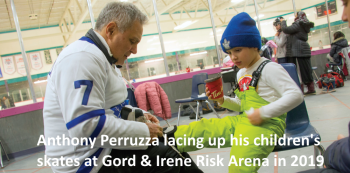 St. Basil's Brawny Italian Army
By Tim Lambrinos
St. Basil-the-Great College opened in 1962 at the corner of Weston Road and Sheppard. The school was constructed on the former Jethro Crang family apple orchard.
The purchase of the property by the Basilian Fathers included an elegant estate cottage, swimming pool, tennis court and a sizeable valley floodplain adjacent to the Humber River that surrounded Crang's Pond. A football field was created in the ravine next to the pond, surrounded by a lush forest. For seven years, the Fathers ran the educational facility as a private boarding school designed exclusively for boys.
In 1969, the school entered into an agreement with the Metropolitan Separate School Board that provided classes for grades 9 and 10. Grades 11, 12 and 13 would remain private under the jurisdiction of this agreement.
A year later, girls were finally permitted to attend the school and the boarding facilities were terminated.
In 1974, a group of young men attempted to achieve athletic excellence by winning a junior boys' football championship. To achieve the goal, the team would need to dethrone two recognized perennial football powerhouses, St. Mike's and Michael Power. At the time, it seemed an overwhelming and unattainable task.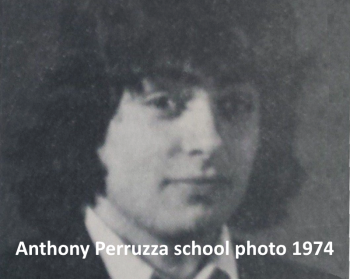 While some onlookers didn't like the team's chances of success, those inside the team's locker room were looking forward to their opportunity. For some returning players, it would finally be their regular turn on the field after spending seasons on the positional depth charts – and they planned to take full advantage.
New names were added to the roster on both sides of the lines of scrimmage. Some offensive stars on the team included Charlie Casola, Dino Favret, Eddie Caldana, Anthony Perruzza, Vince Bruzzese, Ben Ruggieri, Domenic Ruggieri and kicker Domenic Fazari. Star offensive blockers included John Pilla, Joe Facca, John Deotto, Paul Van Hee and Danny Toniutti. The team was encouraged by the school's cheerleading squad of Sofie Bebinski, Olesia Iwanusiw, Vida Remeika, Margaret Egan and Angela Vogel.
The 1974 St. Basil Junior Barons were transformed into a well-oiled machine of battle-ready veterans and untested rookies, courtesy of head coach Mr. Dan Henessy. Henessy was the coach for a variety of the school's sports teams and was known for his resilience. The team's assistant coaches, Mr. Zumpano and Mr. Calderone, added their own expertise and motivation to help guide the players to their ultimate goal.
Henessy's insight and applications toward the sciences of football was imparted on the boys. Training sessions became fierce and challenging with young men pushing themselves to the limits of their physical capacity. Most importantly, Henessy showed the boys how they could effectively operate as a unit.
The boys' individual skill level was at a highpoint just in time for the opening of the 1974 season and they were ready to face their opposition. In the words of one of the players at the time, "We were big, bad and ugly."
The team's success was unmatched with regular season victories over Senator O'Connor, Chaminade and Neil McNeil. Having won all their regular season games in convincing fashion, the team moved into the playoffs as an undefeated number one seed.
A playoff victory over Michael Power set up the much anticipated showdown with St. Mike's.
The 1974 championship game was held on the Astro-turf at CNE Stadium. The determined St. Basil Junior Barons beat St. Mike's by a field goal, arguably establishing themselves as the best football team in St. Basil's history. Well known elected official, Anthony Perruzza, was a halfback on the team. He recalls his favourite play during the season was a halfback option passing play.
There was a time when he continued to play on a broken leg, all to reach that ultimate team goal. Primarily, he felt that the team's never say die attitude provided the necessary drive for their success.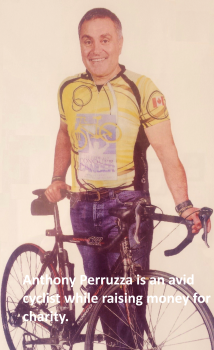 One of Perruzza's most memorable plays as a halfback was his successful option passing play to teammate Charlie Casola. The play went for a reception and winning touchdown at a key point of the season. Overall, Perruzza reflects back at the successful lessons that he learned through sport. In particular, how their team's never say die attitude can actually transcend into real life experiences. Perruzza feels it's one of the reasons that sporting activities must remain a priority for youth.
In 1999, the school relocated to a new site south on Weston Road at Starview Lane. This new facility was built on the former lands of the Southam Murray printing plant. The Catholic school maintains itself as a comprehensive co-educational institution with proud traditions in basketball, rugby and soccer.
In 2008, councillor Anthony Perruzza made a trip back to the school where he obtained his high school diploma to deliver scrolls and encourage graduating students. He reflected on some of his football experiences that paved the way for his own lessons in life.
These days, Councillor Anthony Perruzza remains very active in athletics, particularly as an avid cyclist. His dedication to sports remains a priority in his family life, as well. Even during the winter months, he often takes his children ice skating at nearby Gord and Irene Risk arena.
Yet for some, that remarkable 1974 football season remains a pinnacle point in the lives of certain area 15 year olds. Especially for those who were part of that great championship football team. For them, the memory of that remarkable season will forever be etched in the minds of many as a winning team's ultimate story of success.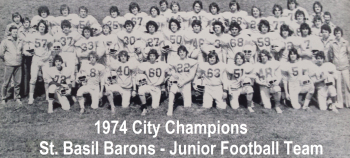 PLAYERS:
The 1974 junior football St. Basil Barons. Back Row: Angelo DiNardo (30), Peter Rajic (57), Joe Facca (54), John Moretto (25), John Deotto (67), Carlo Lappano (12), John Pilla (70), Ernie Bottero (44), Domenic Fazari (31), Billy DiPietro (29), Danny Toniutti (66), Eddie Caldana (24), Eddi Girardi (77), Paul Van Hee (79), John Calabretta (61), Mike Currie (9), Mr. A. Zumpano (Ass't Coach), Mr. A. Calderone (Ass't Coach) Middle Row: Mr. D. Henessy (Head Coach), Frank Carone (Manager), Ted Smith (Manager), Rick Maclean (57), Ed Jordan (37), Anthony Perruzza (33), Richard Melanson (15), Dino Favret (30), Vince Quattrociocchi (27), Fabrizio Prevedel (50), Albino Rinaldo (46), Ben Ruggieri (36), Billy Castellan (68), Louis Dametto (59), Freddy Vallozzi (32), Vince Bruzzesse (7), Nino Rossi (Manager), Frank Leone (Manager) Front Row: Stan Filipowich (72), Charlie Casola (8), Brian McLaughlin (40), Perry Zordan (60), Domenic Ruggieri (22), Ben Brown (63), Murray Munro (51), Steve Carter (48), Mike Meschino (5), Frank Gambino (4).