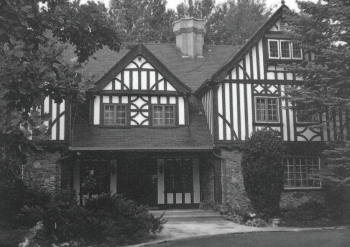 The felling of trees in a forest
By Tim Lambrinos
In 1831, Matthew Griffith of Ireland purchased a large plot of land along Weston Road north of Sheppard. Within this land stood a thick forest that would encompass present day Coral Gable Drive. After his purchase, Griffith began clearing his 100 acres of land so that he could use it for farming. However, he would leave a certain oak tree forest alone. His entire farm was located on the future site of the Woodview community on the west side of Weston Road. His two brothers, Thomas and Joseph, began their own agricultural operations further to the east, closer to the Black Creek.
Griffith built a family farmhouse together with three agricultural buildings that stood 100 metres west of Weston Road. The farmhouse was built in an area now known as Franson Crescent, St. Lucie Drive and Azalea Court. The Griffiths' land along Weston Road became known to the community as Grouse Hill.
Griffith had a son named Thomas who married Mary Ann Duncan of a nearby farm. The couple had only one child that they too named Thomas. Thomas Griffith II attended the Emery Public School located on the northeast corner of Finch and Weston Road.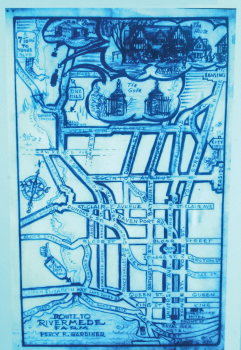 He married Ethel Smithson on October 16, 1898 and the couple moved into the family farmhouse on Grouse Hill. He was known in the community as an articulate, well-spoken man. He was encouraged by neighbours to run for public office for the Township of York council and in 1911, won himself a seat on the council. At the time, he was the sole elected official in all of North York who was a farmer.
In 1916, Griffith worked diligently to collect $400,000 in private contributions needed for the war effort. It was most likely through these activities that he made a connection to Percy and Gertrude Gardiner, prominent members of aristocratic circles in downtown Toronto.
Historical records show that in 1927, Thomas Griffith sold a 57 acre plot to Percy Ryerson Gardiner so that he could build a lavish summer cottage that would be used for fundraising gatherings.
In 1928, the Gardiners built the house that still stands on the southwest corner of Weston Road and Sheppard.
This lavish Tudor style cottage has been home to the Basilian Fathers since 1961.
By 1929, the Gardiners' summer cottage developed into a summer retreat for the Toronto elite who were invited by Gertrude to attend charity benefit parties. It was during the roaring 20's, the depression and World War II when financial contributions were in great need.
One of the cottage's main features was the luxurious $75,000 swimming pool frequently used by guests who attended the parties. Today, the pool has been filled in and is used by the Marian Shrine of Gratitude at 3100 Weston Road.
Most of the fundraising events hosted by Gertrude resulted in anonymous donations sent to financially assist numerous Canadian organizations in the arts, sports, research and social work worlds.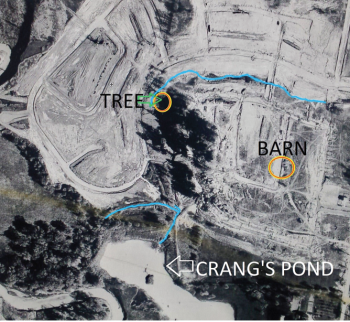 To let his visitors know how to get to his cottage, Gardiner created a map that showed two different routes along several country roads. One of the routes would be to travel north along Yonge Street to Wilson Avenue, then head west to Weston Road. Finally making a quick right up Weston, travelling up to Sheppard.
The other route involved taking Dundas Street and various parts of the winding sections of Weston Road.
Gardiner's map even highlighted a Shell station located at the intersection of Wilson and Weston. The map also showed a Sunoco Station located at Mason's Corners, at the intersection of Flindon Road and Weston. The detailed map was intended to let travellers know they were going in the right direction when travelling along remote sections of rural roads of the time.
Interestingly, Weston Road was known as Main Street when it travelled north from Albion Road. Emery's Main Street would ultimately guide travellers to the centre of Emery Village, located at Finch and Weston Road.
At the time a church, school, banquet hall, wagon shop, post office and train station stood in the centre of Emery.
Gardiner's property itself was named the Rivermede Farm. His detailed map also revealed a separate building described as, "The Barn."
This large barn stood on a spot in the southeast end of where Hibiscus Court is today.
In the early 1950's, the Rivermede Farm and cottage were acquired by Jethro Crang. He had constructed a shopping plaza (Crang Plaza) on the northwest corner of Jane and Wilson. The Sheridan Mall stands there today.
Beginning in 1951, Crang created a quarry used to dig up gravel required for the construction of Hwy 401. By 1953, the empty quarry had completely filled up with water and created present-day Crang's Pond.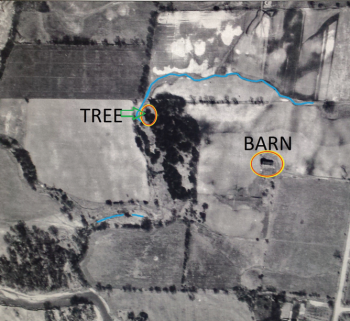 In 1957, the land of the former farms of Matthew Griffith, Charlie Grubbe, Percy Gardiner and Jethro Crang were bulldozed to make room for new houses in Woodview. The semi-detached homes along St. Lucie Drive would be the first built, along with single homes on Florida Crescent.
The Gulfstream Public School and additional homes began to fill in the former farmland, however there was a certain forest that still had tremendously tall and magnificent trees. The majority of this forest was cut down to allow homes to be built along an extension of Verobeach Boulevard and Coral Gable Drive.
The last remaining homes along Florida Crescent, Coral Gable Drive and Verobeach Boulevard were constructed in 1961 and the remaining oak trees that stood along the banks of a small creek were also cut down.
In the building of these last residential homes in Woodview, some of these trees were saved, some were not. There still exists one tree in particular that has continued to stand proudly in the community for hundreds of years. That's the 350 year old giant red oak tree of Coral Gable Drive.