Toronto to host World Cup 2026 games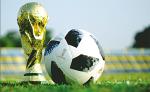 By Sean Delaney The Fédération Internationale de Football Association (FIFA) named Toronto as one of the FIFA World Cup 2026 Host Cities. During a special viewing event in Toronto, Mayor John Tory alongside partners and Maple Leaf Sports & Entertainment (MLSE), celebrated the announcement an...
Toronto to be first MICHELIN Guide destination in Canada
Recently representatives from MICHELIN Guide visited Toronto to announce that the city would become the first MICHELIN Guide destination in Canada and the sixth in North America. Mayor John Tory was joined by representatives from MICHELIN, Destination Toronto, Destination Ontario and Destination Ca...