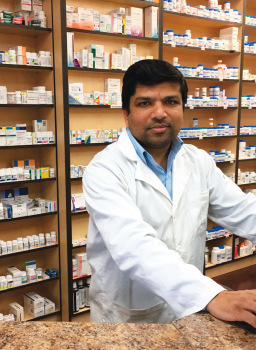 By Varad Mehta
We support our community in getting their flu shots, said an Emery Village pharmacist.
The year 2020 has been synonymous with change, and a good example is the flu season. Several cities and towns have reported a growth in the demand for flu vaccines in comparison with 2019. Dakshay Patel, pharmacy manger for Weston Care Pharmacy, estimates that at his pharmacy the demand for a flu shot has gone up by 100 percent as compared to last year. Patel said the demand might be associated with the COVID-19 pandemic and people wanting to stay as healthy as possible. He also said there have been on-and-off flu shot shortages, which is why they have been working hard to provide the vaccine to people.
"We always support the people to get the flu shot," said Patel, touting the benefits of immunization. "It helps your immunity and body system in fighting the flu virus."
Patel said his pharmacy follows all of the recommended COVID-19 health protocols while providing the flu shots to people. The pharmacy is limiting the amount of people inside the premises and requiring people to wear masks and sanitize their hands. Patel also said the pharmacy has a screening questionnaire related to COVID-19, flu and allergies. The pharmacy takes cases by appointment and walk-in.
For more information about where you can get your flu shots, please visit: myflushot.ca