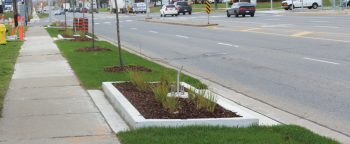 By Sean Delaney
Construction is almost finished along Steeles Avenue W from Fenmar Drive to Weston Road. The Emery Village BIA, along with funding from the City of Toronto's Economic Development Branch, are bringing much needed boulevard beautification to this neglected but essential corridor. Sandra Farina, Executive Director of the BIA said Steeles Avenue defines the northern boundary of Emery.
"We are pleased that this project connects with our previous intersection work at Weston Road and at Fenmar Drive. The businesses along this stretch have been seriously impacted by the COVID-19 economic downturn. We are confident that the improvements along the boulevard fronts provide a needed refresh," Farina said.
The improvement project involves creating raised flower beds with ornamental grasses and perennials along with banner poles featuring hanging flower baskets for next June. The BIA Project Manager Al Ruggero said that the work was severely needed.
"This stretch of Steeles Avenue has been subjected to numerous disruptions over the years that have destroyed the boulevards, sidewalks, and sodding. We were able to lay new sodding and mulching around the trees and provide for a pleasing and protected pedestrian experience."
In addition to the soft landscaping features, the BIA is rehabilitating sidewalk pavers on the west side of Weston Road and adding an Emery BIA gateway sign as well as two seating areas. As with other capital improvement projects, the aim for the BIA is to create a sense of pride of place for the community hoping for a flourishing place to live, work, shop and play.