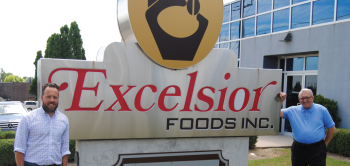 By Sean Delaney
Daniel Violante's grandfather, Giovanni, immigrated to Canada, purchased a grocery store on College Street and brought his family over. It was an exciting time. The senior Violante saw a need for authentic Italian products in Toronto, and once his family was settled, he decided to act. Leading to Excelsior Foods Inc., which still exists today.
He sold the grocery store and decided to venture into importing and distributing the very Italian products he knew the city needed.
"It's what we proudly do today," Daniel said, vice president of sales and marketing. "We're known for the Italian brands we represent in the Canadian market, but also some of our own now."
Excelsior coffee is their signature product. And has been a known brand since the late 1950s.
"We use our own blend to make an espresso that is a taste of home for the Italian community, and it's been very successful for us."
In the past, authentic espresso was not an easy find, and it built a name for Excelsior as a supplier the Italian community could trust.
The company still roasts the beans in house, a delicate balance of five to seven different types of beans, including colombians, guatemalans, arabicas and others – no point in giving away the secret recipe.
The original store, owned by Giovanni was also where Vito, CEO and president, who remains with the company today, learned the business. the family had the original grocery store from 1953 to 1965.
The move to wholesale began with a partnership to import Italian foods, that led to some well known Italian biscuits, imported pastas and others.
The partnership ended, but success in importing allowed the company to expand to a location in Montreal and around the mid-1990s they began to really push the Excelsior brand.
"And we've expanded since," Vito added. "We've added more Italian brands, and some of our own brands. But an important part of the business is still coffee roasting and grinding. It's a big part of the business."
They moved to Emery 15 years ago and since 2004 have renovated the entire building they purchased, and looked to gain as much space as they possibly could.
"We're glad we made this move. For our employees without cars, they could get here and it's a good spot for people to live. We're tight with space right now, but we're reluctant to make any more moves because we enjoy it so much," Daniel said.
The future will see them add more products, the pair said, as they can't turn away from opportunity and the market demand. They have grown into more coffees, pastas, tomato products, meats, prosciutto, cheese, and a brand new line is olives.
"It's quickly become a fairly substantial product for us," Vito said. "We like to be market leaders in what we do rather than being just another supplier."
And they show that in their service. Giovanni got his start with independent grocery stores, and to this day, even though their products can be found in the largest chains, such as Walmart, Costco and Longo's, they will never forget their beginnings, and still serve small, private retailers.
"Our bread and butter is the independent stores," Daniel said. "It's where our business was born."
Excelsior Foods Inc. can be found 178-180 Milvan Dr.
You can reach them at: (416) 740-8500.