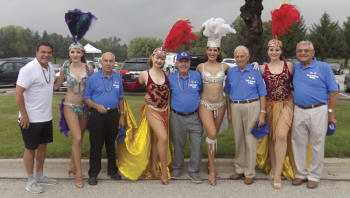 By Sean Delaney
On Thursday, Sept. 8th, Emery Village Charities held a golf tournament at the Nobleton Lakes Golf Club.
The day marked the return of the popular event after a two-year hiatus. During this time, Emery Village Charities has been concentrating on new and exciting ways to fund raise and find sponsorship for featured charities such as Friend's Helping Sick Kids, Children's Mental Health, Humber River Regional Hospital and local seniors groups. Last year, Emery Village Charities was able to make a financial contribution of $100,000 to the Humber River Hospital Foundation from funds raised at previous charity events.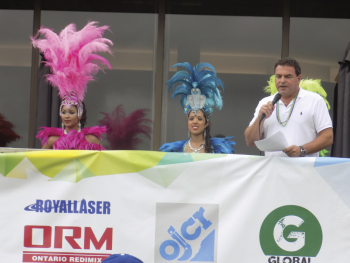 The theme of this year's golf tournament was based on dance and music, highlighted by the Brazilian dance troupe Samba Heat – sponsored by our local Emery Village business Las Brisas. The entertainment was extraordinary, including colourful costumed dancers and the musical sounds of Cascabel and Jorge Lopez.
Once registration was complete and everyone arrived, participants were led by the bombastic samba drum group Batucada Cariocoin. The troupe was in full parade fashion during a grand opening ceremony conducted by daytime emcee, the lovely Elvira Caria. Caria opened the event with her upbeat and energetic mastery getting everyone pumped to play golf, raise money, eat and have fun.
On the greens, golfers were met with delicious treats, activities and beverages by participating food and product sponsors L-eat Catering, Gourmet Group of Companies, Alice Fazoolis, Amsterdam Brewery, France Badoit, Copa Cabana, Disaronno, Elizabeth Grant, Evian, Food Dudes, Great Lakes Brewery, Jack Astor's, Julius Banquet Centre Inc., Pasquale's Glorious Flatbread, Castello Ristorante, Romano's Restaurant, Savanna Premium Cider, TAG Vodka, Mill St. Brewery, Eddystone Meats, Villa Verde, Summer Fresh, Globe Meats Fresh Market and Grill, Rustic Massage Therapy, Centennial Sweeping, Nickel Brook, Dolce e Salato Classic Italian Cuisine and MacGregors Meat and Seafood Ltd.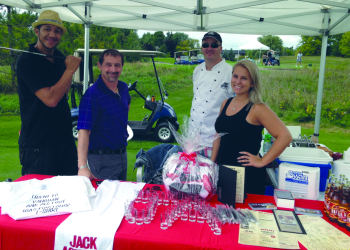 While the afternoon came to a close, attendees entered the clubhouse and were given the chance to network and relax before the witty and hilarious emcee Anwar Knight charmed everyone with his pre-dinner speeches.
Councillor Giorgio Mammoliti, chair of the Toronto Zoo John Tracogna and executive director of the TABIA John Kiru all took turns speaking, addressing the crowd and thanking sponsors for another successful charity event.
The Nobleton Lakes Golf Clubs' venue and staff hit it out of the park.
The staff and management were attentive to all the participants' needs and extremely creative with the food table layout and fruit display they put together.
The venue provided the perfect space for the contests everyone enjoyed and funny situations were created with great prizes won.
A large thank you goes out to the Nobleton Lakes Golf Club from Emery Village Charities for the opportunity to have held the event at the wonderful location.
Finally, it simply cannot be said to the people who make it all possible, the generous sponsors.
Thank you.
Your support is something that Emery Village Charities does not take lightly. All your efforts and dedication is very much appreciated by everyone connected to the group.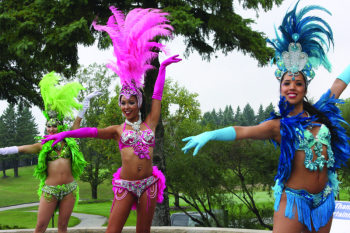 Without their help it would be impossible to make the difference charity can bring to everyone's lives, and this group wouldn't have come so far. Let's keep the momentum going and continue exceeding all expectations every year.