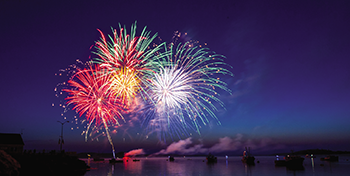 Ring in the new year with high-altitude fireworks along downtown Toronto's waterfront. The fireworks represent hope for the coming year and form part of the Stronger TOgether program, honoring Torontonians' resiliency during the COVID-19 pandemic.
Share your night on social media using #NewYearsEveTO.
There will be no New Year's Eve celebrations at Nathan Phillips Square, although holiday lighting displays and public skating will remain available until 10 p.m.
For the safety of all residents, please do not set off fireworks without a permit. Learn more about City fireworks regulations and bylaws by visiting:
Watch the fireworks from anywhere with views of downtown Toronto's inner harbour, or enjoy the show set to music online via the CultureTO YouTube channel.
Scan the attached QR code to access the channel and save it in your favourites until New Years eve.