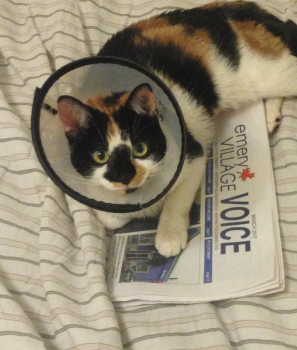 Lilly (top pic)
Lilly was also a rescue cat, and she enjoy her home. She loves watching birds outside from the windowsill. She is six months old and spayed.
She enjoy listening to Bob Marley music and is full of energy.
Not to mention that Lilly has great tastes in her newspaper selection.
Calico (bottom pic)
This is a beautiful photo of our Emery's Calico.
She only has three legs (not that it stops her hunting around the house) and she is a rescue cat. Her disability aside, Mica is such a rambunctious and affectionate member of her family.
Our heart goes out to you, Mica!