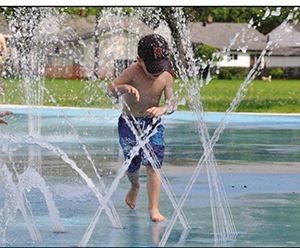 Lanyard Park (splash pad)
Address: 138 LANYARD RD Open 9 a.m. to 8:30 p.m.
A 2.1-hectare park near Weston Road and Finch Avenue West features a lit ball diamond, three outdoor tennis courts, a basketball court, a splash pad, and a children's playground.
And close by to Emery is the...
Summerlea Park (wading pool)
Address: 2 ARCOT BLVD
District: Etobicoke York
Wading will re-open on June 30th for Summer 2022. Open 11 a.m. to 5 p.m.
A 23-hectare park Near Albion Road and Islington Avenue follows along the banks of the Humber River West branch as it joins the Humber River.
In addition to the many trails and naturalized river valley, the park features a ball diamond, three multipurpose fields, a cricket pitch, two basketball courts, two tennis courts, a wading pool and a children's playground.