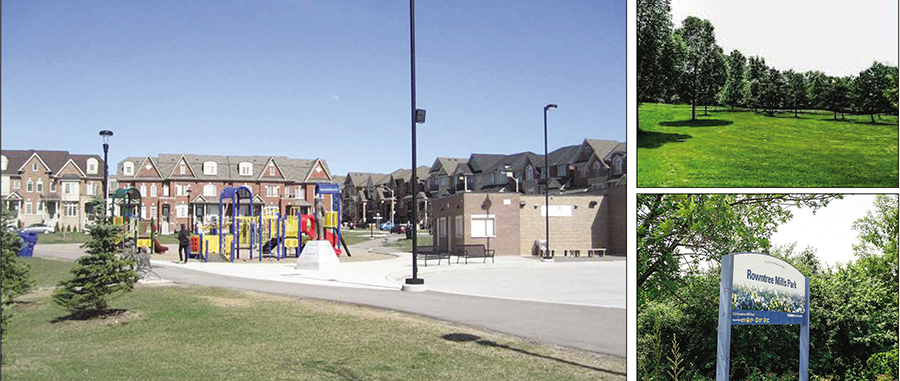 By Sean Delaney
Toronto is adored by residents and tourists for its . In Emery, we are incredibly fortunate to be home to some of Toronto's best outdoor park settings. For example, our own...
Gracedale Park
This park allows visitors to relax for a while and have fun. Many use it to gather with friends, arrange a date, meditate, rest on the grass, read a book, meet some people or participate in celebrations in their free time.
This 3.2-hectare park is located beside Gracedale Boulevard Public School. It uniquely features three tennis courts, three lit bocce courts, a cricket practice wicket, a splash pad, a playground, and plenty of open space for leisure activities.
The park has lots of space to hit the ball around without breaking anything. Practice hitting the ball with some friends or just play catch, and you'll gather enough of your friends of all ages to have a friendly game. It's good exercise and will help children burn off extra energy and fall asleep faster at night
Now, a park is not complete without a playground for children. Slides, swings, climbing, jumping, running around: it's so easy to entertain children. While your children are playing, you take advantage of the park benches where you can sit and chat with others or read a book. Everyone is happy.
With all that running around and when the summer heat finally arrives this year in time for summer, your children will be dying to cool off in the splash pad. It has a rubber surface for safety and some really fun water sprays – your children will squeal in delight while cooling off. You can get involved too. It doesn't have to be only for children. Get in on the fun.
Gracedale park isn't just about games, though. There is lots of open space where you can have a picnic or enjoy some peaceful downtime and renew your spirit amid magnificent trees. There is a beautiful row of mature oak trees where you will find squirrels scrambling and scurrying about. Bring a few unsalted nuts to try and tempt them out of the trees. They're a little shy at first but can't resist free food.
Often, you will find people walking their dogs. It's funny how dogs make friends so quickly and how they help their owners make friends with each other too. Walking your dog in the park is a great way to meet your neighbours and get to know them. Instant friendship.
With some imagination and creativity, you can spend hours enjoying the beautiful weather coming your way.
Gracedale Park is just one of the many parks in Emery Village there for our enjoyment. So gather your family and friends and get out there and enjoy them
Gracedale Park is located at 176 Gracedale Blvd in the heart of Emery.
And another Jewel in Emery...
Rowntree Mills Park
This 92 hectare park along the banks of the Humber River between Finch Avenue West and Steeles Avenue West was named Rowntree Mills Park in 1969 in honour of Joseph Rowntree. Joseph Rowntree was a pioneer in North Etobicoke village of Thistletown and established two mills on the banks of the Humber River. In 1843 he built a sawmill on the east bank of the river. Five years later, he built a grist mill on the west bank. His mills were known as the "Greenholme Mills" and operated until the end of the nineteenth century. There are currently 15 Bike Trails, a Bottle Filling Station -drinking fountains, many picnic sites, and washroom facilities.
The park is located at 155 Rowntree Mill Rd,
Joseph Bannon Park
It looks like Toronto may have an early summer heat wave taking place. Emery is fortunate to be home to some water splash pads that are centrally located.
The park officially opened on October 13, 2012, and was named to honour Joseph Bannon, a decorated war hero, and dedicated community champion.
This one hectare park is located in Toronto's north-west end, south of Sheppard Avenue West and east of Weston Road. It contains an artificial outdoor ice rink, a playground with senior and junior play structures, a splash pad, and a mini soccer field.
The park is located at 65 Mary Chapman Blvd.
For operating hours for the individual parks and a list of additional Toronto area parks, please visit:
www.toronto.ca
Type "parks" in the search area.