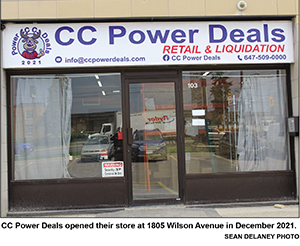 By Sean Delaney
Ray Hu, co-founder of CC Power Deals said the retail and liquidation specialist, new to Emery this past December, is a must visit for the avid shopper because of a little ingenuity from he and a group of newly arrived friends.
"We're a group of new immigrants, all of us arrived in Canada in about 2015, and when we got to know Canada and saw this opportunity, we took it."
Hu and his co-founders studied the online retail market and saw that many returns were being sent to waste facilities instead of making the trip home. And often, that meant good quality and frequently unused products were going to waste.
"We can reuse them as resources and sell them. We have the resources to buy the liquidation stuff from everywhere and get it back to market."
And when it returns to market CC Power Deals is often selling products at approximately 35 percent of their original value Hu said.
"We make sure they're in good condition and can go back to market, process them and find the information accordingly," Hu said. "We find out how much they are worth so we can make a sale and offer discounts to the consumer.
"They still function well or are often unused. They might have an open box because it was a return, but the quality is still good. So, our customers benefit greatly from the good price."
Hu said CC Power Deals doesn't get into a lot of online clothing, but the products available is a seemingly unending list of electronics, home appliances, Christmas decorations, exercise equipment, small furniture and much, much more.
The company is new to Wilson Avenue, having opened their doors at the end of 2021.
Visit them at 1805 Wilson Avenue, Unit 103. They can be reached at: 647-509-0000. Or via email at: info@ccpowerdeals.com
The store is open Monday to Thursday from 11 a.m. to 6 p.m. and on Saturday and Sunday from 12 p.m. to 7 p.m.