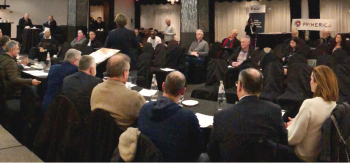 By Sean Delaney
The Emery Village BIA recently held its 17th Annual General Meeting (AGM) on Jan. 15 at the Magnolia Event Boutique at 5511 Steeles Avenue W.
The meeting was an opportunity for members to review the events, activities and achievements of the past year along with presenting the proposed slate of projects and events for the upcoming year. Guests included senior project consultants, Adolphus Wilson and Steve Andrew from Metrolinx, who gave a comprehensive report on the Finch West LRT development. The presentation covered the scope of the work involved with detailed insights on the potential road construction and likely traffic pattern impacts to businesses and commuters, this year and next. Metrolinx touched on the essential collaboration they have with the Emery Village BIA and, in turn, their continuous communication with the area businesses.
Al Ruggero, project manager for the Emery Village BIA, gave an update on planned and underway BIA projects, along with a summary to date of the ongoing Finch West Goods Movement Study which we'll be hearing much more on in the coming months.
Executive Director for the BIA, Sandra Farina, closed the two-hour meeting with a review of programs that included administration, media and marketing along with a summary of the success of the BIA's events and the new milestones achieved in the development and growth of their social media and outreach initiatives.
"We are indebted to the valuable contribution of the previous members of the Board of Management with having served their term, along with the returning members," Farina said. "We look forward to the board members lending us the benefit of their expertise and business experience that reflect the views and priorities of our diverse membership."
The new board members include experience in the legal field, including management and administration from both large and small enterprises. No doubt, the next few months will be busy advising the new members with governance training and board orientation.
"Our board members are examples of the vital importance of the work of volunteers in building stability and resilience in our communities."