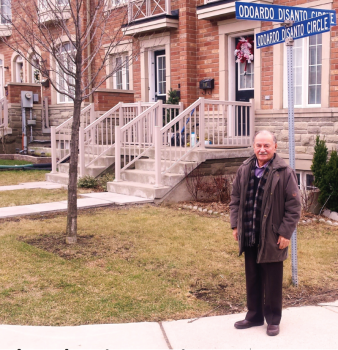 Torbarrie's compensation hospital
By Tim Lambrinos
When accidents or injuries occur at work, Ontarians assume medical treatment will always be appropriately implemented. This is a result of knowing that liability and accountability are the lawful responsibility of all employers in Ontario. The provincial government already has a system in place that evaluates and administers rehabilitation for workers that have become injured in instances at work.
In 1957, a specialized provincial hospital was opened in the Emery community on the east side of Hwy 400 south of Sheppard. The facility would provide treatment and rehabilitation to workers that had been injured at work. At the time of it's opening, it was the most modern healthcare facility of its type in the country. The premises contained a multifaceted state-of-the-art resource centre, operating rooms, patient quarters, swimming pool, treatment centres, outdoor courtyard and therapy rooms.
Only 40 years prior, the Workmen's Compensation Board had been founded with a mandate that would guarantee compensation and treatment to injured workers.
In 1914, the notion of compensation for workers was only reviewed in Ontario after a submission had been introduced by Sir William Ralph Meredith. Prior to any regulated system being adopted, workers had to legally sue their employers in court to receive monetary compensation for any work-related injury.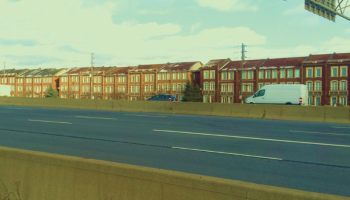 This was a result of legislation that originated in 1886 when Queen's Park enacted laws that basically made employers liable for their workers' injuries. The legislation was essentially nothing more than implementing an act that ensured employers could be sued by their workers to recover financial losses as a result of injuries sustained at work. However, this original system actually served to penalize small employers who couldn't afford to go to court.
The need for a new process began in 1910 when Meredith was appointed to head up a commission that would analyze possible scenarios to obtain compensation for injured workers. The end result was the Workmen's Compensation Act of 1914 that went in effect on January 1, 1915. The new system created a fund that was financed by employers where affected workers would be compensated directly from that fund. Those affected could receive treatment at hospitals and private practitioners. However, rehabilitation was not really a uniformed system since there was no acceptable method of executing it by the organization. There became a need for an integrated structure to be implemented that would create justice for the injured worker.
The administration for the new system was delegated to an independent agency initially called the Workmen's Compensation Board. It wasn't until 1981 that the name was changed to the, Workers' Compensation Board. Since 1998, it has been known as the Workplace Safety and Insurance Board (WSIB).
Many of the community's injured workers were treated at Downsview's Workers' Compensation Hospital located at 115 Torbarrie Road. The hospital also provided treatment for unfortunate workers that needed amputations and required prosthetic limbs.
Initially, there was always a great deal of financial pressure placed on the hospital's administrators as a result of board policies. There was always criticism that the system was not efficient enough to respond to the needs of the injured workers. Advancements finally occurred in the 1980's as a result of serious concerns raised by injured workers themselves.
At its peak of operation, the campus of the compensation hospital on Torbarrie had three wings with two stories each. There was a third building that had three floors in conjunction with working elevators on each floor. In the centre of the complex, there was a long glassed-in corridor that connected the front buildings to the rear. Near the main entrance, there was an indoor swimming pool that also connected to an outdoor courtyard. Within the courtyard, there was walking and leisurely green-space that had a sidewalk shaped like a giant "Caduceus" or "Rod of Asclepius" from an overhead view. This is the medical symbol that represents Hermes and features two snakes winding around a winged staff.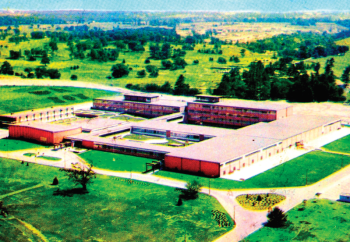 The facility also had a multidisciplinary treatment team that consisted of a physician co-ordinator, nurse, prosthetist, physiotherapist, occupational therapist, remedial gymnast, social worker, research associate, vocational rehabilitation counsellor, secretary and an orthopaedic surgeon.
In 2007, the facility was torn down and a new housing subdivision was built on top of the former site. New street names were designated that originated from famous persons of the local area's past. The new street names were determined by research conducted by an independent consultant for the Emery Village BIA. Ten new streets were built with townhouse and single home residences.
Origin of the street names.
Joseph Griffith was one of the original farmers on the land from 1823 – his farmhouse stood very close to the former hospital site.
Fred Young was a very popular politician from the nineteen fifties and sixties.
Judy Sgro, another popular elected official was recently re-elected to represent Emery Village once again.
Sergio Marchi, was a longstanding former Member of Parliament.
Jim Baird was an Emery hockey legend, as an administrator, who ran the North York Hockey League.
Jason Allison formerly resided on Imogene Avenue and became an NHL hockey player with the Washington Capitals, Boston Bruins and Toronto Maple Leafs.
Adam Oates was a former resident of the Humberlea community and also attended Emery Junior High School and was inducted into the Hockey Hall of Fame.
Ted Wray was a prominent resident of the adjoining community to the south. He oversaw the Oakdale Acres Ratepayers' Association.
Jorma Palomaki, who recently passed away, was a longtime community activist of Woodview.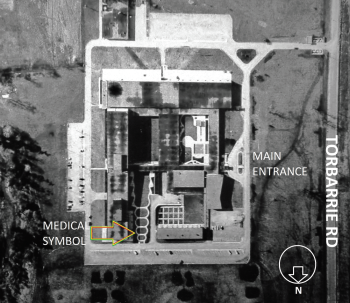 Leila Jackson, another longtime community activist of Woodview, still resides on Franson Crescent.
Odoardo Di Santo is the other honouree that received a street name. He is the individual that has a direct connection to the land where the former hospital once operated.
He was a former Member of Provincial Parliament but was also the Chairman of the Board for the Workers' Compensation Board from 1991 to 1994. Even with all the pressures placed on him, he was always able to apply genuine fairness and concern to ensure that all Ontario's workers would be treated with, above all, compassion. In 2020, Di Santo visited the intersection of the street that now bears his name.
Di Santo helped create the mechanisms that exist for all workers that have coverage today. They all owe him gratitude for his previous commitment to this cause.