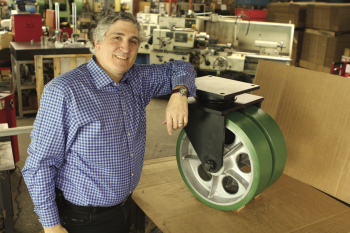 By Sean Delaney
Algood Casters Limited, a Canadian manufacturing success story, is celebrating its 45th anniversary. Algood designs, manufactures, imports and distributes casters, wheels and related products. The family owned company has grown from a small tool & die operation to a global competitor in the caster industry, servicing customers throughout Canada, the U.S., Europe, South America and Asia. Algood has been in its current 80,000 square foot facility on Fenmar Drive for over 40 years and now employs more than 70 people. It celebrates its 45th anniversary this month.
The company's history actually dates back to 1960, when founder Max Guttmann formed A & G Dies Limited and began manufacturing dies for all industries, including caster dies. By 1963, capacity had increased and the company was manufacturing a wide variety of stampings, including a line of casters.
In 1969, the company decided to channel all of its efforts to the caster industry and on February 18 of that year, Algood Casters Limited was born. Algood has enjoyed outstanding success in the past 45 years and is now Canada's largest caster manufacturer. Management of the company has been passed to sons Craig and Sean Guttmann who are poised to take the company to even greater heights.
"We are guided by the past as we look to the future, " says Craig Guttmann, Algood's president. "Our late father's tenacity, ingenuity and unbelievable work ethic provide are an inspiring example for us. At the same time we are adopting the most up to date technology and equipment so that we will continue to be competitive in North America and around the world," said Guttmann.
The company has successfully bucked the outsourcing trend by incorporating and continuously investing in a number of vertical development and production centres including engineering, tool & die making, injection moulding and metal stamping. Those "in-sourced" capabilities have enhanced its ability to acquire and service customers and led to numerous notable achievements, including
* recently surpassing $1M in sales of manufactured product to China
* being recognized by a huge 3 billion dollar European Fortune 500 company as its 2012 best supplier for cost management.
Algood is celebrating its 45th anniversary on Monday February 24, 2014 at its facility at 605 Fenmar Drive in Toronto with an open house for customers, suppliers and business associates. The day will culminate in a number of presentations. MPP Mario Sergio will be present as will a representative of MP Judy Sgro.
Ultimately, Algood is the unique story of a mid-sized family owned company in the thick of Canada's manufacturing sector that is able to thrive and innovate and find its place in a global marketplace.